Brochures, marketing devices
Product scale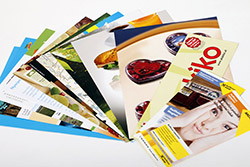 Brochures, catalogues, flyers establish an image about the firm, the offered products, services and can significantly influence the purchasing decisions and orientations.
Rely on the printed information! In March 2013 VTT a Finnish research institute (VTT, Technical Research Centre of Finland) published the following survey results, in which more than 700 citizens of 13 European countries were questioned. The results are obvious.
63% rely on printed advertisings,
41% rely on television commercials,
25% rely on online promotions.
90% regard personalized or unpersonalized printed advertisings more reliable than public media. Nine out of ten prefers to review a catalogue instead of an online promotion.
The graphic studio is an important division of the printing house, where skilled and imaginative designers create the designs and help to find the appropriate material.
We always strive to deliver unquestionable quality prints, regardless whether the design was created internally or was provided by the client;
brochures,
catalogues,
flyers,
posters
booklets,
noteblocks,
sleeves,
folders,
stickers,
wobblers.
Short delivery time is an essential characteristics of the above listed products – in certain cases orders must be fulfilled within 24 hours.
A sample (proof or online forwarded pdf) is always available for our customers, even if the design was created externally. Printing and post-press processes are fully automated.
Brochures, marketing devices gallery
Graphic designing and file data bank
Variable data printing, dm letters
Quality assurance
Environmental protection
The exceptionally well trained staff, comprehensive production experiences, client customized quality assurance system, full commitment to our clients, flexibility and state-of-the-art equipments guarantee that the products produced by us always reflect premium quality, and are supplied on time.
Our leading-edge machines are relatively new (Heidelberg, Herzog & Heymann, Kern, Kohmann, Xerox). The advanced and in-house technology, supreme production planning and quality assurance system contribute a remarkable competitive edge to our customers.
Finishing
Finishing techniques and their combinations are excellent tools to highlight or strengthen the message, or for branding:
shiny varnishing
iriodin varnishing
matt varnishing
high-gloss varnishing
matt/gloss UV-spot varnishing
matt or shiny foil lamination
printing on alufoil laminated surface
hot-foil stamping
embossing
Placing of product samples (insertation)
The purpose of insertation is the placing of testing-, tasting- or product reliance samples (e.g. cards, coupons, sachets) into other prints. The advantage of our extremely precise, automatic inserting machine is that we are able to fulfill these requests within a short time.
Brochures, marketing devices gallery
Post-press processes
The following processes effective tools to underline the message or to strengthen the brand:
Z and accordion folding
tri folding
gate folding
saddle-stitching
glued centerfold
perfect bound spine with soft cover
sewed spine with hardcover
die cut version
die cut, glued version
Brochures, marketing devices gallery
The properly designed extent, size, finishing and folding techniques, shape cutting, gluing and the combination of these enhance the aesthetic impact, and are excellent tools to strengthen the emphasised-message and to improve the impression about the publisher.