Folding boxes,
packagings made of cardboard
Cardboard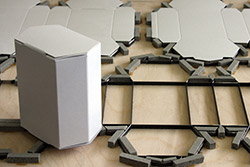 We produce printed, glued product packagings – folding boxes, sleeves, inserts – for domestic and export markets. The principal areas of these packagings are as follows:
industrial products
pharmaceutical products
food and beverages
beauty care products
Cardboard as a material meets our requirements with regard to the decorative appearance dedicated by the market, and also the protection of the environment, our Earth. The printing plate processing and machine set-up is costeffective, therefore sheet-fed offset printed cardboard and paper packagins could be produced efficiently in small as well as in large quantities.
Selection of the right cardboard type, most suitable for the product, is part of the formal and graphic designing and development tasks we porvide to our clients.
We strive to achieve the lowest possible migration values in case of packagins made for foodstuffs. To achieve and maintain this target we provide proposals and independent laboratory test reports.
Our production and quality control processes exclude the possibility of product mixing and false shippment labelling.
Folding boxes gallery
Graphic designing and file data bank
Quality assurance
Environmental protection
The exceptionally well trained staff, comprehensive production experiences, client customized quality assurance system, full commitment to our clients, flexibility and state-of-the-art equipments guarantee that the products produced by us, always reflect premium quality and are supplied on time.
Our leading-edge machines are relatively new (Bobst, Heidelberg, Kohmann, Tünkers). The advanced and in-house technology, supreme production planning and quality assurance system, contribute a remarkable competitive edge to our customers.
We support to strengthen the business successes of our clients with customized financial proposals.
We have first-class customers and illustrious references.
Finishing
The various finishing techniques and their combination are superb applications to position the product on the shelf, for branding and are perfect solutions against counterfeit:
shiny varnishing
iriodin varnishing
matt varnishing
high-gloss varnishing
matt/gloss UV-spot varnishing
printing on alufoil laminated surface
hot-foil stamping
hot-foil stamping with holographic foil
embossing
"peel-off" varnishing
The appropriate finishing process or a combination of more techniques, will give a positive impression about the product, which will accordingly increase the sales
Blister cards, blister varnishing
The blister card used for blister packaging is applied with a special varnish that heat seals to the pre-molded plastic cap, made of PE, PET, PLA or PVC. We gained broad experiences in blister card production, and are ready to provide professional assistance in trouble-shooting, or in the development and initiation of the packaging.
Blister cards may be requested with any kind of the above listed finishing techniques, or with their combination.
We apply exceptionally strict quality assurance procedures during the production of blister cards.
Folding boxes with plastic windows, panoramic windows
Reveals what has to be seen. The box blank receives a transparent plastic foil over the previously die-cut window postition.
A window box is the ideal packaging of a product that has a special shape, material or function. To improve the effect, a window is glued over the folded edge(s) of the box which will partially, or fully exhibit the product. Panoramic window boxes are frequently substitute transparent, hard shell plastic packagings.
Window and panoramic window boxes will enhance customer confidence by the disciple of "what you see is what you get". The windows may be in direct contact with foodstuffs.
Panoramic window boxes gallery
To achieve a perfect fitting onto the blank of the foling box, a special pre-work is made with the transparent plastic foil.
Laminated corrugated packagings
Layer(s) of paper laminated to the corrugated sheets will add up to a particulary stiff material. The top layer – in case of folding boxes the outer layer – is pre-printed on off-set machines and will be laminated to the other layer(s). The result is heavy-duty packaging material that is mainly used for relatively heavy products and still eye-appealing.
Any kind of surface treatment, or their combination may be applyed on the top layer.
We are ready to give techical support to select the optimal parameters of each layer.
Laminated corrugated products gallery
Pharmaceutical packagings
Our products meet the extremely strict requirements of the pharmaceutical industry. Our peices are competitive as a result the synergy of modern technology, our pharmabox supplier experiences and the exceptionally well trained staff. The accurate quality control focuses on the following processes:
material
the confirmed key-line and artwork
the Braille text and embossing elements related to the artwork
color matching
Braille dot height
gluing accuracy
easy running on the packaging lines
representative samples
unit packaging
indications on delivery documents and unit box labels
Pharmaceutical packagings gallery
Our standard check-list of pharma boxes include 82 control points. Custormer reflections and recommendations are integrated to our framework processes forthwith, and we apply client customized standard procedures which are part of our contractual co-operations.