Packaging development
Full printing know-how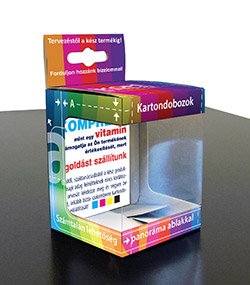 By possessing the overall production technology knowledge, the comrehensive printing know-how we can optimize the packaging costs right in the beginning of the development.
Our proposals and designs always consider the volume and weight of the product, the market practices, as well as the environmental and food safety regulations.
Selection of the most suitalbe material and finishing technique, is a primal part of the formal designing and development work.
This work is supported by:
CAD softwares
mock-up cutting plotter
digital printer for color proofs
To achieve the objective on the shortest possible route and at the shortest possible time, we take our customers into the development process permanently. As a matter of fact this means, within 7 days from starting the project, a mock-up and a complete production plan is available for our clients.
The milestones of the packaging designing and development:
objectives, expectations, recognition of the product's market position
recognition of the shipping methods and distribution channels
reviewing production technologies
selection of material
selection of finishing techique(s)
reviewing and considering environmental regulations
reviewing and considering food safety and pharmaceutical regulations
formal designing
presentation of mock-up and related costs
repetition of the above actions based on the customer's reflections
pressure tests
packaging line test at the customer's site
perfection, transmission of the key-lines
application of the graphic design on the key-line
sample production
transport test
obtaining migration test issued by an accredited laboratory (foodstuff and pharmaceutic)
completing the necessary modifications, repetition of tests
finalizing the production documentation
preparation of tools (so called single stamp tool or mass production tool)
production of samples
Dedicated customer representatives help our clients in the course of the entire development process. Necessarily we are of course available for a consultation with more of our technicians, irrespective to the assigned location.
Folding boxes gallery
Graphic designing and file data bank
Quality assurance
Environmental protection
Finishing
The designing and proposal will consider the application of one or more of the following tehcniques. These finishing methods are superb applications to position the product on the shelf, for branding and are excellent solutions against counterfeit:
shiny varnishing
iriodin varnishing
matt varnishing
high-gloss varnishing
matt/gloss UV-spot varnishing
printing on alufoil laminated surface
hot-foil stamping
hot-foil stamping with holographic foil
embossing
"peel-off" varnishing
The appropriate finishing process or a combination of more techniques, will give a positive impression about the product, which will accordingly increase the sales.