Office communication devices, business forms
Product scale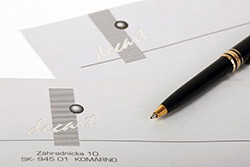 "The style is the man himself"- sais Buffon's popular quote. As a matter of fact the famous mathematician and naturalist referred to graphology: show me your handwriting and I'll tell your personality. This aphorism precisely suits the requirements related to office communication prints and business forms. Not only the content, but the style will also represent the company's image. The orderly, clear-cut and eye-appealing prints – stationeries, invoice papers, envelopes – will give a positive impression about the company. Office prints are internal and external communication devices. Our duty is to supply problem-free, funcional and perspicuous products to our clients.
The graphic studio is an important division of the printing house, where skilled and imaginative designers create the designs and help to find the appropriate material.
Generation of QR and barcodes either singly or from databases – e.g. addressing, numbers, balances, codes, texts -, and the integration of these into the artwork, is an important part of the work at our DTP department. Sufficient bandwidth enables the fast and safe data transfer.
We always strive to provide useful proposals, and to deliver unquestionable quality prints, regardless whether the design was created internally or was provided by the client;
envelopes
stationaries
business cards
folders
duplicating forms
Post-press processes:
printing of serial numbers
personalization
printing of variable datas
folding
perforating
gluing
envelope stuffing
co-packing
Short delivery time is an essential characteristics of stationaries and business forms – in certain cases orders must be fulfilled within 24 hours.
A sample (proof or online forwarded pdf) is always available for our customers, even if the design was created externally. Printing and post-press processes are fully automated.
Office communication devices and business forms gallery
Graphic designing and file data bank
Variable data printing, dm letters
Brochures, marketing devices
Co-packaging gallery
Quality assurance
Environmental protection
The exceptionally well trained staff, comprehensive production experiences, client customized quality assurance system, full commitment to our clients, flexibility and state-of-the-art equipments guarantee that the products produced by us always reflect premium quality, and are supplied on time.
Our leading-edge machines are relatively new (Heidelberg, Herzog & Heymann, Kern, Kohmann, Xerox). The advanced and in-house technology, supreme production planning and quality assurance system contribute a remarkable competitive edge to our customers.