Information leaflets
Information leaflets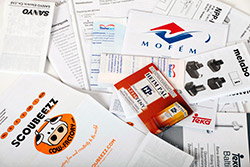 The purpose of leaflets and patient information leaflets is to share the necessary information with the users. The format is adapted to the volume of information and the production procedures assure the easy running on packaging lines.
Typically thin, recycled or recyclable paper is used. We gained broad experiences in the production of guillotine cut and folded leaflets. We are also ready to provide professional assistance in the selection of the appropriate material, folding method and in trouble-shooting (i.e. difficulties occuring on the packaging line).
The production is fully automated and by the means of modern, trouble-free plate processing, the perfect customized equipments, the simultaneous production of more variations – i.e. language mutations and versions complying the country specific legal regulations – is cost effective. Digital printer (laser printer using powder inks) is used to cost effectively print premium quality leaflets, when several variations are ordered, each in low quantity.
Our production and quality control procedures exclude the possibility of product mixing and false shippment labelling.
Informaton leaflets gallery
Graphic designing and file data bank
Quality assurance
Environmental protection
Patient information leaflets (PIL)
guillotine cut products
simple folded leaflets
small size, multiple folded PIL
folded outserts, inserts and booklets
closer label
inline camera verification system
Our products meet the extremely strict requirements of the pharmaceutical industry. As a result of the synergy of the modern technology, our PIL supplier experiences and the exceptionally well trained staff, the prices are competitive.
The accurate quality control focuses on the following processes:
material
confirmed artwork
folding method related to the artwork
readability
size accuracy
easy running on the packaging lines
representative samples
unit packaging
indications on delivery documents and unit box labels
Patient information leaflets gallery
Our standard check-list of PILs include 68 control points. Custormer reflections and recommendations are integrated to our framework processes forthwith, and we apply client customized standard procedures which are part of our contractual co-operations.