Labels
Labels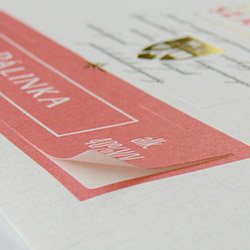 Paper and some plastics (PP, PS) perfectly combine the sales supporting decorative appearance, and the efforts of protecting the environment and the Earth. The printing plate processing and machine set-up is costeffective, therefore sheet-fed offset printed labels could be produced efficiently in small as well as in large quantities.
Selection of the most suitable material considering the applied labelling, shaping and injection molding technology is part of the formal development and graphic designing we provide to our customers. Several options are available to cut the shape of a label – die cutting or kiss cutting – however the customer stipulations (i.e. shape cutting without nicks) or cost efficiency is always considered when selecting the proper process.
Labels gallery
Graphic designing and file data bank
Quality assurance
Environmental protection
The exceptionally well trained staff, comprehensive production experiences, client customized quality assurance system, full commitment to our clients, flexibility and state-of-the-art equipments guarantee that the products produced by us always reflect premium quality, and are supplied on time.
Our leading-edge machines are relatively new (Bobst, Heidelberg). The advanced and in-house technology, supreme production planning and quality assurance system contribute a remarkable competitive edge to our customers.
We support to strengthen the business successes of our clients with customized financial proposals.
We have first-class customers and illustrious references.
Finishing
The various finishing techniques and their combination are superb applications to position the product on the shelf, for branding and are perfect solutions against counterfeit:
shiny varnishing
iriodin varnishing
matt varnishing
high-gloss varnishing
matt/gloss UV-spot varnishing
printing on alufoil laminated surface
hot-foil stamping
hot-foil stamping with holographic foil
embossing
"peel-off" varnishing
The appropriate finishing process or a combination of more techniques, will give a positive impression about the product, which will accordingly increase the sales.