FachPack 2016
27th of September 2016 – 29st of September 2016, Nuremberg, Germany.
We wish to thank you your visit at Fachpack.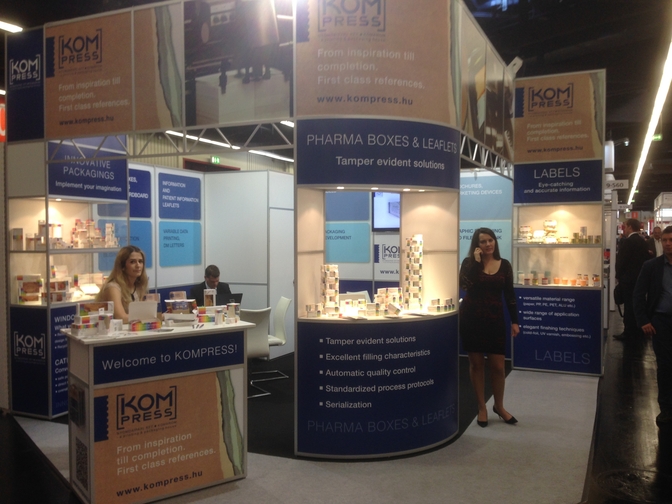 THE PRESENTED SOLUTIONS AND PRODUCTS
Tamper evident folding boxes
Our newly developed tamper evident boxes are already available. The practicability and the conformance with the strict regulations were the main targets of the development process. We are ready to supply our pharmaceuticaly customers tamper evident packagings that may be adapted without any modification on the packaging lines.
Labels
Labels for various purposes, printed on versatile materials. Paper and some plastics (PP, PS) perfectly combine the sales supporting decorative appearance, and the efforts of protecting the environment and the Earth. Selection of the most suitable material considering the applied labelling, shaping and injection molding technology is part of the formal development and graphic designing we provide to our customers.
Window patched, panoramic window boxes
It shows what must be seen. Using this technology, a transparent plastic foil is glued onto the window punched cardboard blank.
Folding boxes with integrated plastic windows are the ideal packagings of products carrying specific shape, material or functional characteristics. The effect could be improved with the application of panoramic windows, when the plastic window overlaps the folded edges of the box, this will either partially or fully dispaly the product. Panoramic window boxes prove to be a perfect substitution of rigid wall, plastic boxes.
Panoramic window boxes improve customer confidence, also the principle of 'what you see is what you get' is realized. They may be in direct contact with food.
Before the plastic window is inserted onto the blank, it is specially processed in order to fit very precisely to the folding edges.
Folding boxes may be treated with the following finishing procedures and their combination:
shiny varnishing
iriodin varnishing
matt varnishing
high-gloss varnishing
matt/gloss UV-spot varnishing
printing on alufoil laminated surface
hot-foil stamping
hot-foil stamping with holographic foil
embossing
"peel-off" varnishing
Concepts, customized solutions are available for our customers. Our packaging development protocol is guided by the TCO principles and the focus on environment protection.